Rave Magazine
GENSHEN - Someplace Else EP - November 2002
Brisbane's Genshen are one of the more distinctive bands playing around our fair city, as the EP shows. Their sound is an often alluring cross between eighties synth-pop and early nineties shoegazing guitar-rock, an amalgum which, on tracks like Don't Believe, results in compact and wistful pop songs couched in swirling, sometimes cheesy synth textures and resonant guitars. Vocalist Quentin Brown sounds like a cross between Neil Tennant and the Underground Lovers' Vince Giarusso, and indeed much of the music recalls the Lovers' template of chilly synths and widescreen atmospherics. Aided by rich, detailed production, these songs are a finely honed introduction to an interesting act." by B Collingwood
Timeoff Magazine
Genshen – Love Is On The Radio (Independent)
Brisburg's own Go-Betweens always struck hardest when the pop was tight and luscious and the production and delivery delightfully imperfect. And here these fellow locals serve up much the same delicacy and with much the same sonic tone. Breathy, spacious, ethereal and utterly pop. Go buy it, go see 'em and get yourself lurved! by RICHARD KWONG
Semper Magazine
Love is on the Radio (Independent)
"Quite simply, Genshen are a revelation. Love is on the Radio (their debut single) is a dream: a majestic, heady ride from start to finish. Nothing local's sounded this good for years, nothing since Gaslight Radio's Hitch on the Leaves, or Shuriken's Defining Attempts at Structure. This is music steeped in music's history, an obvious labour of love that somehow escapes sounding derivative. Frontman Quentin Brown's vocal stylings are beautiful, floating above and around vintage synths, shabby guitars, spot on bass and drums. B-sides Find a Roost and Thermodynamic just make you wish this was a long player. A kind of Slowdive-meets-The Underground Lovers-and-everything-good-in-between, Genshen sound poised for greatness. Get this record. It's splendid." by KRAM

Courier Mail
(Pulse pg 3 - Up 'n' Coming)
GENSHEN - You've got to love a band with a song called Chermside… So Noel Mengel checks out Genshen
Like many a band, Genshen had their beginnings as an acoustic duo, but it wasn't long before Quentin Brown and Gillian Bright realised they needed a broader palette. Says Brown: "We were writing songs that you could call indie pop even then. Gillian had one of those little Casio keyboards she could carry around under her arm and I had a dodgy acoustic. "But really the songs suggested that they needed a band to play them.' Enter fellow Brisbane-ites Michael Burnett on drums and bassist Steven Smith and they were on their way.

The band's home recorded promotional CD reveals a broad mix of styles but they fit in easily alongside expat Queensland acts like Gaslight Radio and minimum Chips (these days both relocated to Melbourne). Besides, you've got to love a band that can write a song called Chermside. Best of the batch though is their new single Love is on the Radio, a gorgeous, droning pop tune that will hopefully be floating through your speakers any day now. "We've always been keen on people with innovative styles, and bands like Stereolab who have found interesting ways of using keyboards in their sound," Brown says.

"It was great to get that result for Love is on the Radio in a home studio but we're looking forward to the next step, working with a producer who understands what we're about who can help us get the best out of our songs." Genshen launch Love is on the Radio at RIC's Bar, Fortitude Valley, on Monday.

by Noel Mengel

HERE'S WHAT THE PRESS SAY ABOUT OUR GIGS...



genshen@ the zoo (photo by richard)

OZ MUSIC PROJECT
... Closing the night in style were Genshen, and whilst I had been looking forward to seeing all of the bands, I'd been anxiously waiting to see Genshen for the first time. On occasion, when one has gathered high expectations of a band based upon their recorded output, the live show can prove to be a startling disappointment. However, Genshen proceeded to startle and amaze with their ability to reproduce their lush atmospheric pop songs with such clarity in a live setting. Not many bands are able to create the layered pedal and synth driven sounds like Genshen do in a studio setting, let alone in the notoriously difficult live setting. On stage with the band was a varied mass of guitars, keyboards, effects and telephone microphones, which produced a futuristic yet familiar (think martians meets My Bloody Valentine meets New Order) sound. by Andrew Tutts
Check out Genshen's interview on Triple J...
click here to stream (requires Real Player)
HAIKU REVIEW
Brispop.com Discussion Board
My dear, dear, Brisbane. Whilst Genshen redefined 'pop', you all slept at home:/ Nine golden, golden stars. I'd heard stories about the wonders of the Genshen band wagon, and have been waiting ever so long to finally jump aboard. But, boy, was it a joyoius ride. ... Their current single "Love is on the Radio" paled in insignificance next to their newer tracks. I'm not sure what the last tune was, but hot damn - it's a corker! New Order crossed with Flaming Lips, equals my new favorite band. by Hanns
TSUNAMI Magazine
Genshen... are one of the most exciting acts on the Brisbane scene at the moment. Claiming influences from bands such as Gaslight Radio and Stereloab, they have developed a distinctive, blissful drone characterised by Quentin Brown's pillow-soft voice, and Gillian's astronomical keyboards.

Opening with debut single 'Love Is On The Radio' (surely one of the great indie releases of this year), this gig marked a first for the band- using virtual displays during their set. Quentin Brown does remind me of Vincent from the Underground Lovers in a sense with his vocal technique and stage presence, yet ultimately his style is his own.

... They also manage to finish their set in true cathartic, electronically woozy style. And despite not playing one of their finer pieces, 'Find A Roost', Genshen were worth every dripping tune. It seems Gerling now have something to compete with.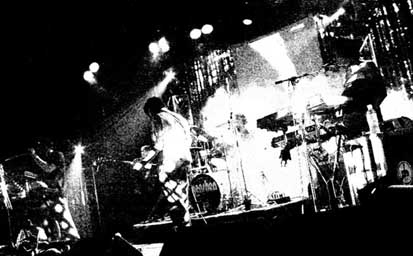 genshen @ the tivoli, brisbane (photo jo bell)